FINALLY, "TAILOR-MADE" DOG FOOD YOU CAN TRUST
Discover your dog's nutritional profile in just 2 minutes, for free! 👩‍⚕️
* Try 30 days of dog food, personalised online to suit your dog's current needs ✔️ Delivered to your door within 48 hours ✔️ No obligation
Made to order based on your dog's nutritional profile
Freshness Guaranteed: Our dog food is bagged to order in our atelier in Moselle. This way, we're able to do away with many of the preservatives traditionally found in dry dog food.
HOW DOES IT WORK?
First, you answer some questions about your dog, then we develop a formula to suit their needs. Your package leaves our atelier the very same day.
...MADE WITH PREMIUM, LOCAL INGREDIENTS



ORIGIN OF OUR INGREDIENTS
Our dog food is made with ingredients from local producers within a 100km radius of Strasbourg, Alsace. The health of your dog and, therefore, the quality of our dog food is our highest priority. For this reason, we chose Germany for its excellent quality standards.
More protein = better digestion for your dog!
HECTOR KITCHEN
AVERAGE PROTEIN LEVEL
more protein than traditional, vet-recommended, premium brands in the UK.
Protein is very important for your dog, so it's an essential element in the composition of their food. Nevertheless, excess protein can be very harmful. It's not just the amount of protein that matters, but also its digestibility and amino acid composition. That's why our formulas contain different levels of protein—between 27 and 39%—from a variety of different sources, according to the current, specific needs of your pet.
OUR DOG FOOD IS LOW IN GRAINS

🌽
Gluten-free and low in grains for easier digestion
NO ADDITIVES
NO PRESERVATIVES

Our formulas are either grain-free or contain a very low quantity of grains, depending on your dog's needs. But grains are not the enemy... They can be an excellent source of energy (starch), vitamins, antioxidants, and minerals. However, you need to be careful not to overdo it; the quantity of grains in your dog's diet should be adapted according to their age and activity level (not according to the cost of animal protein, as is too often the case with big manufacturers).
🕒 In just 2 mins, for free!
TO SUPPLEMENT OUR DOG FOOD...
Formulated from "human-grade" small fish (anchovies and sardines), our fish oil gives your dog a super boost.
Rich in Omega-3, the benefits are endless! It protects the heart, reduces the risk of cholesterol and diabetes, relieves inflammation and pain in the joints, is beneficial for the digestive system and skin, promotes calcium absorption, and even improves cognitive capacities.
We have formulated 5 food supplements to specifically target the most common diseases in dogs. Obesity, hair loss, allergies, etc.
Our supplements come in powder form, easy to mix with dry dog food to help resolve any digestive concerns and nutritional deficiencies.
"TESTED AND RECOMMENDED BY OUR CUSTOMERS!"
AN INNOVATIVE WAY TO THANK YOUR DOG FOR THEIR LOVE EVERY DAY
Our treats are functional (and delicious!). Made in France, exclusively for Hector Kitchen, they're a preventive means of limiting cognitive decline thanks to the use of PHENOMIND®. All while making your dog happier than ever!
Perfect for rewarding and satisfying even the greediest of dogs.
THE "BUTCHER'S CUT"

AVAILABLE IN 8 TYPES OF MEAT
Our butcher's cut is a real innovative treat that your dog will love! You can feed it to your pooch several times a day while helping to improve their functional abilities and, thus, their life (and even their future if given regularly during their early years). Each piece of meat provides between 10 and 30 minutes of pleasure, depending on the size of the dog.
Available in 8 different types of meat, enriched with glucosamine, green-lipped mussel, and curcumin.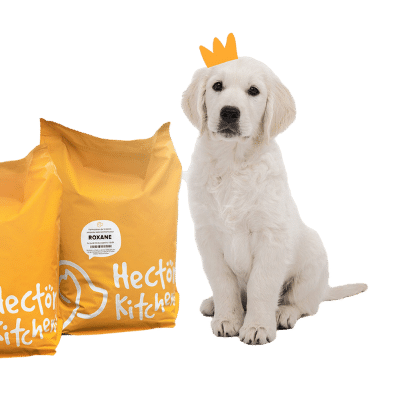 2 Semaines de croquettes*
= 1€ TTC
"Livré chez vous. Sans engagement"
DELIVERED AUTOMATICALLY EVERY MONTH 📦
We deliver to you automatically every 30 days, no strings attached - you can stop deliveries at any time with just one click
Discover your dog's nutritional profile in just 2 minutes, for free! 👩‍⚕️
* Try 30 days of dog food, personalised online to suit your dog's current needs ✔️ Delivered to your door within 48 hours ✔️ No obligation
MUCH MORE THAN JUST AN ONLINE DOG FOOD RETAILER
We re-evaluate your dog's needs
every month.
Free of charge, every month.
Precise and tailor-made,
to the nearest gram.
automatically, according to the different stages of your dog's life.
and nutritionists track your
dog's evolution.
6 days a week, 09:00 - 20:00,
we're here to advise you and help you find the right solution for your pooch.
ZERO OBLIGATION: STOP WHENEVER YOU LIKE WITH JUST ONE CLICK
HECTOR KITCHEN FOR CATS 🐱
Looking for better quality cat food? Do you want more than just an online cat food retailer?
Discover our "tailor-made" cat food.